Home

/

Genuine Smith Little Torch Kit with 5 Tips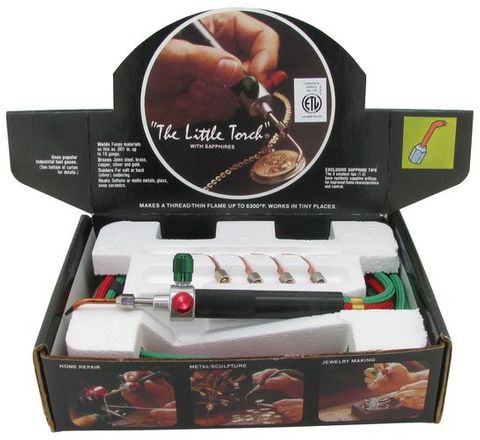 Genuine Smith Little Torch Kit with 5 Tips
$399.00 ex gst
Stock Locations
Online:

In Stock

Sydney Branch:

In Stock

Melbourne Branch:

In Stock

Brisbane Branch:

In Stock

Adelaide Branch:

In Stock

Perth Branch:

In Stock
Description

When you pick up a genuine 'The Little Torch', you know immediately that you are holding a magnificent instrument which will enable you to extend your skills far beyond previous limits. Whether you are in the first stages of learning your craft or have mastered it with more limited tools, The Little Torch will open a new world of possibilities for you.

The Little Torch provides a perfectly controlled, completely stable flame hot enough to melt commercially weldable metals, glass and even ceramics. It may also be used with special heating tips to melt up to 85 grams (3oz) of metal.

Supplied in the Kit are 5 tips to provide a wide range of flame lengths and heat output for various metals and thicknesses.Operators can vary the flame length to their exact requirements by adjusting the oxygen and fuel valves in the torch body.

Features:

• Reaches 3,480 o C

• Extremely lightweight and flexible.

• 5 sizes of tips. Tip sizes included are #3,#4,#5,#6,#7. # 3 tip has a synthetic sapphire crystal to ensure consistent size and better flame control.; Other tips available by special order.

• Instructions with safety information included.

• Set of two, 1.8 metre hoses with brass connectors.

Maximum Fuel Temperatures:

· Propane 2637°C

· Acetylene 3260 - 3482°C

· Butane 2757°C

· Mapp 2926°C

· Hydrogen 2676°C

· Natural Gas 2537 °C

For operation 'The Little Torch' requires both LPG and Oxygen as well as a regulator for the LPG and Oxygen bottles.

Note:

* We only sell GENUINE Smith Little Torches. Beware of imitations. There are many imitations on the market which look identical, right down to the packaging. While the price of the imitation products are attractive, they are unsafe and can be extremely hazardous to the user.

Torch Stand & Tip Organiser sold seperately (see Code: 24-315-000)

Regulators sold separately (see Oxygen Regulator Ref: 24-465-800 & LPG Regulator Ref: 24-470-800) and are not included with 'The Little Torch'.

For gas and oxygen contact you local gas specialist.