Home

/

Elma EC95 Luxury Watch Cleaner - 1 Litre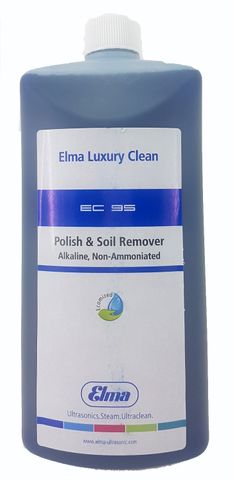 Elma EC95 Luxury Watch Cleaner - 1 Litre
$42.00 ex gst
Description

Elma Luxury Clean EC 95 (without ammonia)

The Elma EC95 Cleaner is an aqueous, alkaline cleaning concentrate containing no ammonia.

Highly concentrated with strong brightness effect for removing wear dirt, processing agents and oxidation from jewellery & watch parts.

EC95 easily removes polishing pastes and other contaminations leaving a bright clean.

EC95 contains a temporary anti-tarnish finish. For rapid cleaning of precious metals and non-ferrous metals as well as their alloys and jewellery with hard stones.



Characteristics:

• Easy removal of polishing pastes and dirt

• Powerful brightening effect

• Very efficient cleaning concentrate - 1 Litre makes 50 Litres of cleaning solution

• Without toxic ammonia fumes

• Odourless

• Applicable to use in ultrasonic units



NOTE: Check costume jewellery and soft stones beforehand. Not suitable for pearls and coral.


Downloads