Home

/

Frankie on a Winner with ZRC Rochet
Frankie on a Winner with ZRC Rochet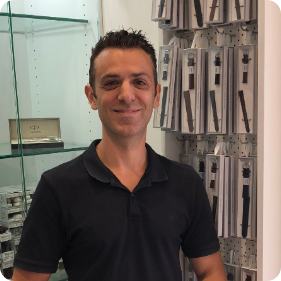 Frankie on a winner with ZRC Rochet
Frankie, from Bayside Shoe Care - Sandringham (VIC), was introduced to the ZRC Rochet range of watch bands last year by our Melbourne Sales Representative Nicky Silva.

Frankie loves the quality and variety that ZRC Rochet Watch Bands offer. He said he really likes the soft natural feel of the leather and is enjoying the margin he is making. Frankie initially had another brand in his store but now he only stocks ZRC Rochet.
---
Click here to view the range of ZRC Rochet Watch Bands.
Click here if you would like to speak to an AJS 'ZRC Rochet' Watch Band specialist.
---
Share your Success Story
Click here to provide us with your Success Story or the Success Story of someone you know.