Home

/

Legor Silver Plating Solution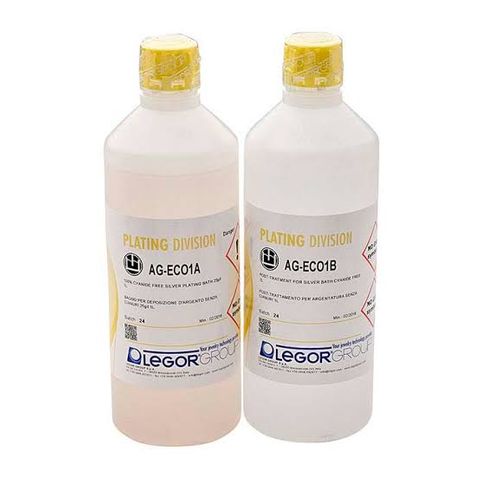 Legor Silver Plating Solution
$310.82 ex gst
Stock Locations
Online:

In Stock

Sydney Branch:

In Stock

Melbourne Branch:

In Stock

Brisbane Branch:

In Stock

Adelaide Branch:

Out of Stock

Perth Branch:

In Stock
Description

This product comes with two bottles for two seperate procedures. The first bath is a Cyanide free Silver plating solution. The second bottle is post plate final finish to stop tarnishing.

UNDER NO CIRCUMSTANCES ARE THEY TO BE MIXED

ECO-Silver is a silver plating electrolyte for bath plating which provides for a new and completely cyanide-free approach to silver electroplating . When comparing to traditional silver plating methods which can contain up to 200 grams of potassium cyanide per liter, this plating solution provides a perfect resolution to common cyanide restrictions immerging from place to place throughout in the international community. Moreover the complete absence of cyanide provides for healthier working conditions for plating operators as well as reduces environmental concerns in the form of waste water and waste water treatment.

ECO-Silver is a two part process commercially available in a kit. Part A being the silver solution and Part B being the post treatment. The solution works at low current densities and can obtain a plating thickness up to 20 micron. The final deposit is bright, 99.9% pure silver, and does not have to be polished after deposition. This silver plating solution can be used in both decorative and technical plating applications.


Downloads