Smart tools for clever choices
The AJS Design Centre provides a number of smart tools to help our customers determine the best equipment for their needs.
Check out the smart tools below.

AJS Tool Kits
Tool kits especially created to help get you on your way in a variety apsects of jewellery making.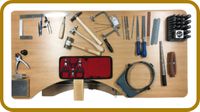 Choose the Tools for your Bench
Let us help you tailor a tool package to suit your requirements. Ideal for beginners.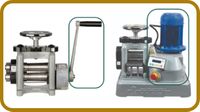 Rolling Mill Selector
Simply select the features you want and we'll present you with the machines that will meet those specs.




Design a Hallmark Stamp
Provide us some info and we'll come back to you with a quote for you to consider.




Vaniman 'Smart Dust Collection System'
Simply fill in the form below to provide us some information about your work stations and we'll come back to you with a detailed plumbing recommendation and a proposal for you to consider.



Determine the Best Soldering Boards for You!
Check out our informative and to-the-point video which discusses the popular Soldering Boards and their various uses.
(8 min)

Digital Ready Reckoners
Input some essential info and we'll make the calulations for you.