Home

/

Orion Pulse Arc Welders For Jewellery | Australian Jewellers Supplies
Orion Pulse Arc Welders
The units below are in stock at your local AJS Showroom. Call 1300 852 999 to make an appointment for a demo.
Click here for some really helpful tips from the manufacturer.
Click here to see Orion Products in action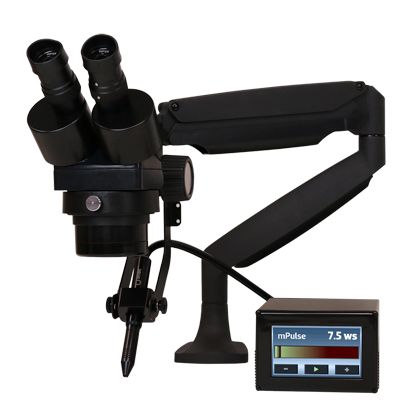 Orion mPulse 30 plus Microscope
Introducing the newest member of the Orion Pulse Arc Welder family—The Orion mPulse 30.
With a 30ws power potential, this small and friendly welder can be used by almost anyone and has the power to tackle all sorts of jobs. It's perfect for those needing a welder for making quick, small welds on a light duty cycle.
The mPulse 30 power settings range from 3.0 ws to 30ws, in 1.0 ws increments—that's 27 different power settings to choose from. The weld spot size on the smallest setting is nearly 1mm, depending upon your material. The largest setting of 30ws will yield a weld spot approximately 1.5mm in diameter, again, depending upon the material you're welding.
The mPulse Plus pulse arc welder works amazingly well with Gold, Silver, and many other metals used in jewellery creation and repair. The mPulse Plus takes up almost no space on a work bench.
---

Orion 100c
The Orion 100c is the compact, entry-level Orion welder, and was designed and developed to meet the needs of the market – smaller footprint to save space, easy-to-use touch screen interface for quick access and adjustments of welding parameters, high-frequency agitation options for difficult to weld metals, and all this at a low initial cost. The Orion 100c continues the Orion legacy by providing the most high-tech, versatile, and affordable welding solution on the market today.
The Orion 100c offers two different weld modes: Pulse Arc Mode and Micro Mode. Whether an application requires high power welding needs or intricate, precise welds around precious components, the Orion 100c has the flexibility to weld with power and precision.
The Orion Welders product line has the potential to help users increase profits, save time, and unlock potential. By using innovative pulse arc technology, the Orion welders perform laser-like welds without the expensive price tag. Utilizing new technology, users can become proficient at welding within minutes, and can customize every aspect of the machine to fit their preferences.
---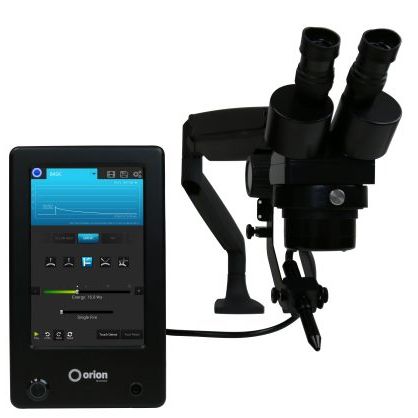 Orion 150s
The Orion s Series welders are powerful and robust micro pulse arc welders that are ideal for many different applications including mold repair, medical devices, working with wires, jewelry, and other unique welding solutions. Sunstone Technology is infused into the Orion s welders to deliver power, repeatability, adjustability, and affordability.
The Orion s welders can also be used by laboratories, universities as well as research and development facilities. Designed for maximum versatility and control, the Orion s welders can be adjusted for extremely fine welds to very large welds. A variety of metal alloys and different thicknesses can be welded at a touch of a button.
---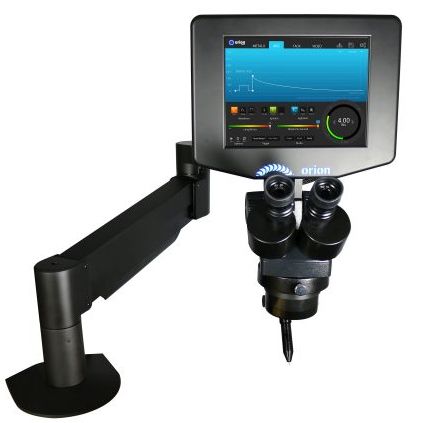 Orion 200i2
The Orion 200i2 (Patent D740,338) will simplify the welding needs of any user. Features include: the Pico weld mode for intricate welds as small as 0.01 Joules of energy, to achieve truly microscopic weld joints; user selectable up to 200 joules of energy; a large 10" touch screen interface with one-touch access to all welding parameters; the ultimate space saving design; and 3 unique pulse shape wave form options to choose from: Classic Orion (for Orion users that have come to love welds produced by the Orion 150i), Triangle (for weld smoothing), and Square (laser like welding). And the new Seam mode—a revolutionary breakthrough in micro pulse arc welding. Seam mode allows users to mimic laser welding with weld speeds up to 30 welds/sec. The patent pending Orion 200i2 gives you the precision and speed of a laser with the versatility, power, and ease of a pulse arc welder.
---

VIDEO
Orion Pulse Arc Welders in Action
There are 50 videos in the playlist below demonstrating various capablities of Orion Pulse Arc Welders.
Click in the top LH corner of the video below to view the menu.
The majority of the videos show the Orion i Series welders (Orion 150i and Orion 200i2) in action.
The Orion 150s and Orion 100c were also used in some of these videos.

Orion 250i EV - Battery Welding System
There are 12 videos in the playlist below demonstrating various capablities of the Orion 250i Battery Welding System.
Click in the top LH corner of the video below to view the menu.

ALSO ...
Click here for information and video about Orion Laser Welders.