Home

/

AJS Tool Kit Wrap Bag with Handle & Shoulder Strap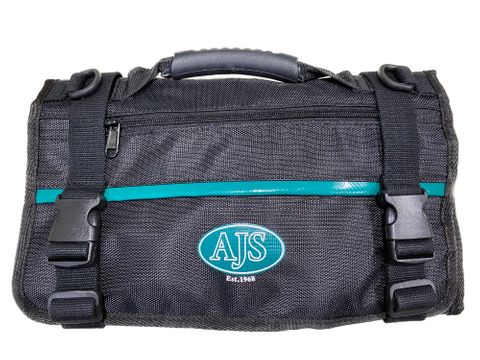 AJS Tool Kit Wrap Bag with Handle & Shoulder Strap
$99.90 ex gst
Stock Locations
Online:

In Stock

Sydney Branch:

In Stock

Melbourne Branch:

In Stock

Brisbane Branch:

In Stock

Adelaide Branch:

In Stock

Perth Branch:

In Stock
Description

AJS Toolkit Bag

This tool wrap bag is designed to store all your small tools and pieces of gear that always seem to bet lost in the bottom of tool boxes.

Front pocket for easy access to smaller or frequently used tools.

This 3 section tool wrap bag is easy to open thanks to quick relase buckles fastened on two straps that are adjustable.

Ergonomic rubber handle makes carrying comfortable or use the shoulder strap instead.

A flap inside the cover made of soft material prevents tools falling out.

Two rows of pockets in different sizes make this wrap bag versatile enough to store plenty of tools.

Elasticised securing bands inside safely and securely prevent tools from falling out.