Home

/

Digital Microscope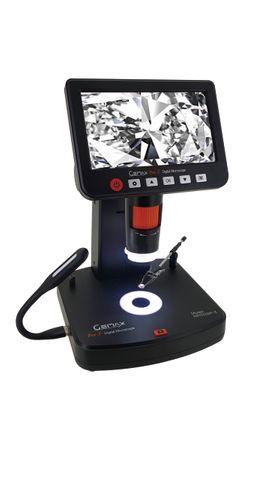 Digital Microscope

1) Ideal for taking full pictures of Rings, Earrings & smaller Jewelry pieces as well as Diamonds & Gemstones in true color.

2) Great for initial use of Gemology, ideal for beginners. It comes with a small disk, which turns the base into Darkfield/Brightfield function.

3) Adjustable Lighting: Diffused lights from top & bottom, adjustable by the control wheel.

4) Multi-Level Magnifications: Gemax Pro-II, comes with height adjustment knobs from low to high, so the customer can achieve overall observation to tiny details of the object while scrolling it up & down.

5) Improved & Bigger screen (5″) with a new microchip to get true colors & crisp image of stones & jewelry.

6) Take high-resolution pictures at any time with the ' Camera' button up to 12m & videos in 1080P/720P.

7) Occupied with » Gemax Protable Capture Pro II » for measurement & other options.

8) Many useful accessories included.