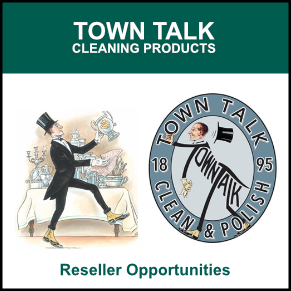 STOCK 'TOWN TALK' CLEANING PRODUCTS NOW!
Australian Jewellers Supplies are proud to be the exclusive Australian distributor of Town Talk Cleaning Products.
For over a hundred years Town Talk has been creating high quality polishes and cleaners that bring a radiant sparkle to precious metals, rare stones and fine jewellery.

All Mr Town Talk's specialist products - each one with carefully chosen natural ingredients - have been designed to keep jewellery looking as good as new!


Please call 1300 852 999 or click here for more information on stocking the Town Talk cleaning range.

Town Talk Products
Click here to view the Town Talk Cleaning Products brochure.
Click here to view videos on various Town Talk products.