Home

/

Rochet Watch Bands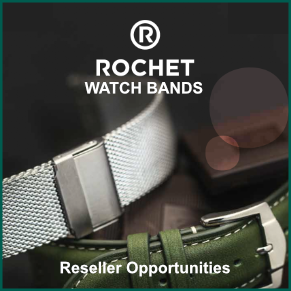 STOCK ROCHET WATCH BANDS NOW!
Australian Jewellers Supplies are proud to be the exclusive Australian distributor of Rochet.
Rochet produce an exquisite replacement watch band range with attractive reseller margins for AJS wholesale customers.


Rochet has been a watch band manufacturer for over 110 years and is incredibly popular worldwide. Note: Wholesale account customers can order Rochet Watch Bands when logged in to the AJS website.


Please call 1300 852 999 or click here for more information on stocking the Rochet Watch Band range.


---
Introduction
---
Features
Peter and Renata discuss the features of the Rochet Watch Band range.
(5min 30sec)

Click here if you would like an AJS Representative to contact you.


---
Rochet Catalogue 2020
Click here to view the comprehensive Rochet Catalogue with extensive ranges to suit all personalities.


---

Enquire Now!