A Class Act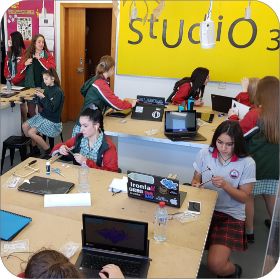 In 2015, Henley High School identified the need to offer a program that supported young females in technology.
With two of their teachers having a background in Jewellery Design they knew they had the scope and the expertise to offer an innovative program designed around contemporary jewellery practises.
With the help of Pauline and Andrew at AJS Adelaide, they planned and set up a new workshop called Studio 321. They started with a set of sawing peg clamps and adjustable saw frames and were also fortunate enough to obtain a grant to buy a Durston Rolling Mill, which provided the ability to tackle a multitude of projects.
Within no time, the number of females selecting Design and Tech tripled! Boys were also showing an interest in the course. One of these boys was Josh West who has just graduated and is working hard to secure an apprenticeship in 2021.
Henley offers a year 9-semester program that includes saw piercing, texturing metals, soldering, riveting, and pewter casting amongst other techniques. The Stage 1 and 2 Course is a culmination of all the skills and techniques the students have learnt over their time in jewellery.
In 2019 the school had 2 full classes of Stage 2 students made up of females and males who completed a variety of beautiful and creative pieces. Next year is looking just as popular with another 40 Stage 2 students enrolled.
Design and Technology Teacher, Alex Pindral, says that she really appreciates the Demo Days run by at the AJS Adelaide Showroom. She says, "These sessions are a great way to see new techniques and processes and a fantastic opportunity to network with other jewellers to exchange ideas."
Click on the video below to view some of the art produced by students in 2019. (1 min)