Cindy Durant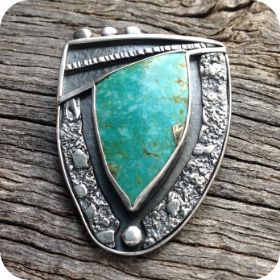 Submission from: Cindy Durant
Business: Manufacturing Jeweller - Penong, SA
Item: Sand, Sea & Pebbles
Pendant of Turquoise with Pyrite set in sterling silver and fine silver. Inspired by my walks on our local beaches, sand, sea & pebble! Hand fabricated using fusion, rolling mill, soldering, melting and bezel setting. Patina applied & rubbed back to accent textures.
AJS Products used: I used various items from AJS including my Durston 130 combination rolling mill and a little riveting hammer I love.