Carol Buxton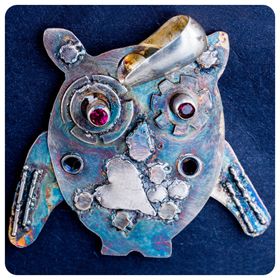 Submission from: Carol Buxton
Business: Hobbyist - Woodbury, QLD
Item: Steam Punk Owl
Hand constructed "Steam Punk Owl" of my own design. Argentium silver, sterling silver tubing, soldered and welded with added CZ x2.
AJS Products used: Orion welder, setting burrs.
---
Share your Art
Click here to submit your Showcase Submission and potentially win a $50 AJS Gift Voucher.