Home

/

Australian Gold Nugget and Sapphires
Australian Gold Nugget and Sapphires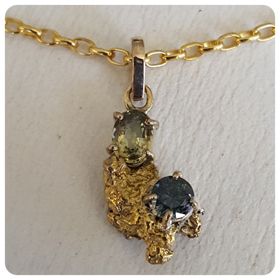 Submission from: Glenn Morgan
Business: Presidium International - Twin Waters, QLD
Item: Australian Gold Nugget and Sapphires
Take a gold nugget mined in Victoria and teo sapphires mined in Central Queensland and the result is pure Australian. 2.7g nugget / .6 and .8ct sapphires. Hand crafted and soldered settings.
AJS Products used: Solder flux, soldering heat pad, ultra clean and fluid, files, drills, burnishers, finishing tools, vice, cleaning rag.