How much turquoise can a Polar bear?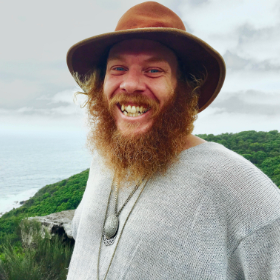 For most of Jimi Polar's life he has worked as a musician. He played music on tour at festivals and in recording studios and as a session musician. He often noticed the handmade jewellery worn at cultural celebrations and gatherings. Not having much stone jewellery of his own to wear, Jimi decided he would try making charms and talismans from some of the stones in his own rock collection, just things for himself and his friends to wear.
Jimi learnt pretty quickly that you really had to make things properly if they were going to stay together for long.
Jimi admitted, "I needed to learn how to set stones correctly if any of my new works were going to survive, so I reached out through Facebook and one of my friends introduced me to Boris, a crystal man she had known since her childhood."

Boris lived only about an hour away and was happy to meet up and show Jimi some of the stones he was cutting. Boris had a lapidary cutting wheel setup and had spent a lot of his lifetime collecting gems and fossicking about. He was an opal miner too, back in the day, and had also spent a good portion of his life collecting and studying Australian turquoise.
Jimi explains, "We arranged to meet up so that I could purchase some lapidary grade slabs and learn a little bit from him about stone cutting. As I was shown around the studio setup I was amazed by all the blue rocks I was seeing everywhere. I hadn't any idea that Australia produced turquoise."

Over the next 6 years, Boris and his similarly talented partner Deb, provided Jimi a thorough education in cutting and polishing gemstone cabochons and learning how to fabricate sterling silver jewellery in the old school way. Jimi also learnt how to grade natural turquoise nuggets.
Jimi said, "As we worked together through Boris and Deb's collection, I would often film our efforts so that I could study the cutting techniques further. We also began to build our own Facebook following as the 'Australian Turquoise Exchange' and these videos were also helpful on this platform. Cutting nuggets was exciting stuff and we wanted to show a growing group of members who were becoming interested in the gemstone."
"Every turquoise nugget is unique," Jimi declares. "They each have their own patterning, much like how we have our own fingerprints. It was very exciting being the first to see what beauty lies within the nuggets as we slabbed them up on the rock-saw. Every free chance I could get I would organize to visit the stonecutting studio to further practice my skills, trading much needed cutting time for a bit of helping out around the house and back yard."
The more Jimi learnt about turquoise the more he began to see it appearing everywhere. Jimi revealed, "I saw it in the Netflix series 'Yellowstone', where it appeared in the bolo ties, earrings, pendants, cuffs & belt buckles that the characters were wearing. I would see musicians wearing it on stage and in music videos."
"Turquoise, which is known as a healing stone, has often paired with a folky blues & roots genre, sometimes it was even a bit rock & roll," Jimi said. "Jimi Hendrix even wore it. There is an integrity to real turquoise, an honesty. The turquoise will be here long after we have all vanished. I guess that is why I like it so much, it's just riding along with me for the time being."
With respect to his goals, Jimi says, "My aim is to make heirloom quality jewellery that will be passed down within a family for generations to come."
Jimi said his focus really lifted when friends and family started asking him to make special settings for their occasions. "It is a very special feeling to be asked to make someone's engagement ring, and then years later seeing it still treasured," Jimi says proudly.
Jimi is a fan of technology and how people can share and learn on various Facebook groups. "I found the support through groups like 'The Art of Jewellery', where you can put your work right in front of your peers, very helpful. It is wonderful how everyone helps one another to learn better techniques. It really is a fantastic time to learn from other artists as you develop your own ideas."
When asked about advice for developing artists, Jimi is very clear on this. "The best advice I could give is to find yourself a mentor. There are a lot of experienced people with skills that will be lost if they are not taught to the next generation. I was very fortunate to meet Boris & Deb when I did and to learn from their vast experience of hand crafting natural Australian turquoise sterling silver jewellery. We all need great teachers in life, and some of the best teachers need students. It is beautiful when we can help each other to achieve our dreams."
---
Connect with Jimi:
Instagram
Facebook
Facebook Group - Australian Turquoise Exchange


Mentioned:

Facebook Group - Art of Jewellery
---
---