The Accidental Jeweller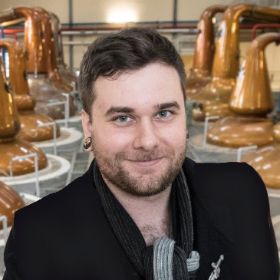 Garrett Kinder's love for jewellery began in high school, purely by accident! He had signed up for the Year 9 Metalworking elective, but because it was full, he was instead placed in a Jewellery-making class.
Garrett's initial disappointment did a complete U-turn when he ended up begging his teacher to allow him to spend his lunch breaks in the workshop so he could continue working on his projects.
Year 9 finished and so did the access to jewellery-making classes. A part time job in a pizza shop eventually led to a career in the hospitality industry and over time Garrett forgot how much he enjoyed working on his jewellery projects.
Twelve years into his full-time career, Garrett won Whisky Magazine's "Australian Bar Manager of the Year" as well as "Masters of Whisky". Garrett's prizes included an all-expenses paid trip to Scotland and a visit, with the sponsor, to a silversmith at Perth-based Contemporary Metal where he made a silver bar spoon.
"This experience reignited the passion I had for being in the workshop," Garrett said excitedly.
"Three years later, after the pandemic had begun and kept going, I was becoming burnt out in hospitality and couldn't stop thinking about being in that silversmith's shop. I was in a good position financially, so I decided to quit my job and spend my leave and final pay cheque on as many tools, gemstones, and precious metals as I could afford," Garrett recalls.
"Everything I have made is self-taught with YouTube videos, help from the local AJS staff, and a couple of books."
Garrett had been running the social media accounts for the bars he worked in, and this experience came in handy for taking his product photos and running the social accounts for his jewellery. He is also proud of the website he created to sell his pieces and therefore fund future projects.
Nowadays Garrett spends as much time as possible at his workbench. This happens to be his mum's old dining table, now covered in burn marks and other battle scars!
Garrett says, "I feel that being self-taught has helped me develop my own style over time and helps some of my pieces to be more unique."
---
Connect with Garrett at:
Website
Instagram
Facebook
---