Ally is on the Road to Success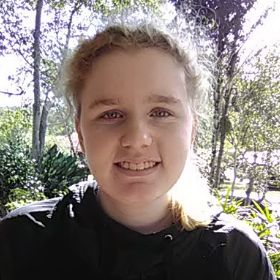 There is no doubt that creativity runs through Ally Gunton's veins. Currently 17, an early interest in metalworking, and would you believe weapons manufacture, has led her on the path to decide that she would like to pursue a career as a jeweller.
A particular penchant for goldsmithing and silversmithing has been further developed since becoming involved with The Goldsmiths' School located at the inner-city Brisbane suburb of Bardon. Here she has found the mentors particularly helpful.
Ally's family and friends are not surprised with her choice of career path. They are all aware of her creative talents, which include writing and drawing.
She loves inventing characters and stories, often collaboratively with other people. Ally says, "I've been part of quite a few online writing communities, and it's a generally friendly and super fun environment to be in. I took up art just to draw the characters I have. I've always taken a lot of influence from Japanese media for my creative pursuits, and I think that's the most obvious with my art. I'm a big anime fan, so the stuff I draw tends to follow that too!"
Ally's desire is to use her artistic skills to bring new ideas to the jewellery industry. "I think my number one skill though is my willingness to learn", Ally says. "I know I have a lot to learn, but I'm enthusiastic and it's really a case where I think I'd benefit from listening to those with more experience in the industry, because I really would like to know more and get into it professionally."
With the enthusiasm and determination that Ally possesses she is destined to make a success of her life.
Ally will be graduating from high school in November and thereafter will be seeking an apprenticeship in the jewellery industry, ideally in SE Queensland.
If you would like to send Ally a message of support, or if you have an opportunity coming up, please go to the following link to communicate with Ally.
---