The Life of Brian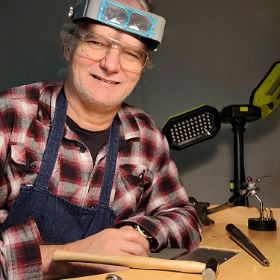 Brian Borg had recently retired from the Navy and was looking for an activity to stimulate his mind and to be an outlet for his creativity.
Brian stumbled across jewellery-making and it seemed to tick all the boxes. Because of Covid, courses were hard to find, but he did manage to enrol in a course which was due to start a few months down the track. Eager to get under way, Brian commenced setting up a workshop with tools and silver purchased from AJS.
Working on submarines in the Navy placed extreme importance on attention to detail. Brian said, "I found focusing on learning these new skills of creating small, detailed pieces of jewellery an extreme pleasure, particularly when a plan comes together and the piece turns out as intended."
Brian has been learning his craft under the guidance of Philip Noakes at Contemporary Metal in Perth. He says, "I tend to dabble with different styles and designs while I search for the style which best suits my creativity. I enjoy learning the tricks of the trade in the classes I attend whilst challenging myself to create designs that are a little outside the box."
Brian says that he uses external influences for design ideas. One recent piece was influenced by a water droplet and another by a bird's nest. He says proudly, "It is these types of designs that I really find challenging, but also very rewarding."

Another distinct benefit of Brian's new pursuit is that it helps to clear his mind from previous work stresses. He can be found at his bench most days of the week, making jewellery and continuing to work to find his niche.

Brian says enthusiastically, "This new hobby is becoming a passion! There is a great thrill in creating a beautiful piece that individuals will love to show off and be extremely proud to wear." There is no doubt jewellery-making has become a valuable addition to the life of Brian.
Check out some of Brian's work below.
Connect with Brian on Facebook: Brian Borg Creations


---
---