Penny's Spark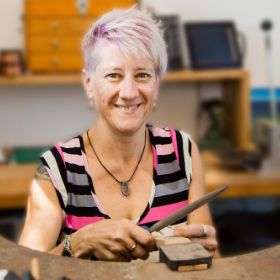 All it took was a workshop on 'How to Make a Sterling Silver Ring' for Penny Layton to realise that metal was the medium she wanted to work with. For years Penny had been playing and dabbling in various crafts and mediums, but nothing ever gave her that 'inner spark' like hitting the metal did.
This happened while Penny was in the US with her husband and two girls for a posting with her husband's work. Penny studied Silver Smithing and Jewellery Design in Colorado for two and a half years before the family moved back to Canberra, returning with a collection of tools and gadgets.
Penny set herself up in a shed at the back of the house and got busy making and hitting the market scene to sell her pieces. Her business grew quickly, and she has not looked back.
Penny says, "Over the years my designs have changed and developed but I have always tried to incorporate mixed metals, movement and texture. My favourite pieces at the moment are those that I create using cuttlefish casting and Abrolhos Island pearls."
Penny now resides in Geraldton, WA where she has set up a small studio that includes benches for her to conduct workshops. "Just like the one I participated in nearly 17 years ago!" Penny is delighted to add.

Penny reflects, "I still cannot believe how lucky I am to be doing something I love so much. It's those special customer designs that I am so privileged to be invited to make. Like the 21st and 18th birthday presents, the anniversary gifts or designs for a special occasion that make me feel so humble and excited for what it is I get to do."
Recently a friend approached Penny about creating jewellery for the friend to wear at her wedding. Penny proudly says, "To be trusted with such a special occasion is one of the greatest privileges. I was lucky enough that she respected my ability and gave me loads of creative license. Then after supplying her pieces, to have her tell me that she will love and cherish them forever, was a wonderful compliment."
"Making jewellery and being creative is such a large part of my life and I am very thankful to have found the thing that makes me feel so happy. Add to that, through the workshops I hold in my little studio is the hope that I might create an 'inner spark' in someone, just as was created in me, all those years ago."
---

'Wedding pieces'

---

"My favourite pieces at the moment are those that I create using cuttlefish casting and Abrolhos Island pearls."
---
Connect with Penny and view more of her amazing art at ...
Rustic Creations website
Instagram
Facebook