Cash in Hand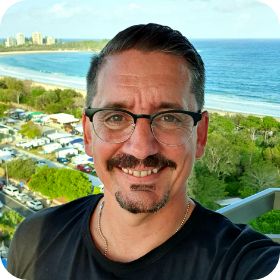 Simon Moore always loved coins. He could see the beauty in their history, their journeys and the stories they could tell. He pondered the idea of making jewellery out of coins where there was a meaningful connection to the wearer.
His desire to make a difference in people's lives and create art that connects them to their heritage saw the formation of Keepsake Foundry on the Sunshine Coast seven months ago.
Simon said, "It was not about mass production. It's about listening to people's stories about their loved ones, their family, their heritage, and their significant events and finding a coin to connect them all."
All this is a far cry from a pre-Covid life as an executive and chairman of a public company in North America where he flew five times around the world over three years for work, collecting a crazy number of frequent flyer points.
Then in February 2020, Covid hit hard in Canada. Simon said, "All I could think about was getting home, back to Australia to be with my family, and start life anew."
This he did. The first two rings he produced were for a dear friend and his wife, both retired vets, one from the Navy, the other the Army, serving active duty in Vietnam, and suffering all the costs of real combat.
Simon said, "The rings I made for them were from coins of significance to them both that they kept hidden in a drawer. I was able to change that, making them rings they could wear with pride to remind them of their accomplishments and contribution to our great nation.
Some astute social media marketing helped to spread the word. Firstly to local residents of the Sunshine Coast, then to other states across Australia, and suddenly he was hearing life stories of people from New Zealand, Canada, the US, Japan, London, Hong Kong, and it's growing.
Simon delights in the service he is able to provide his customers and cites a number of examples.
"One customer was a one year recovered alcoholic who sent me his AA token and asked me to turn it into a ring and engrave the date of the start of his journey."
"Another handed me his great grandfather's 1904 English penny that had been passed down and wanted to wear it with pride instead of leaving it in a draw."
"A lady from country Australia sent me five coins from her recently deceased grandfather's collection and asked me to make rings for all her sons to help them remember their pop."

"A father and son asked me to make them matching coin rings from their family's country of origin, so they will always be connected."

"There are hundreds od stories, but the one that stands out the most, that humbled me deeply, is a recent ring I made for a lady whose partner is in hospital having surgery, critically ill and may not make it through at just 50 years oof age. She asked me to find a coin and make a ring from her partner's father's country of origin and birth year to give him strength, as he always looked up to his dad as the strongest person he knows."
Simon reflects, "I am lucky to do what I do as an artisan, to design and make beautiful art to be worn. But most of all, I am lucky to really connect with my clients, and to do as I set out to do – to make a difference in their lives. Little did I realise how much of a difference they would make in mine!"


---
Connect with Simon at ...
---