Carly Slape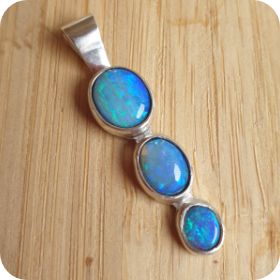 Submission from: Carly Slape
Business: Hobbyist - Adelaide, SA.
Item: Trio of Lightning Ridge Crystal Opals in Sterling Silver Pendant
It was my mum's birthday so I decided to make her a birthday gift whilst teaching myself how to bezel set from YouTube videos. I sourced some Lightning Ridge crystal solid opals online as they are my mum's birthstone. I made them more luminous in the setting by using a black permanent marker to colour the base of the sterling silver bezel setting.

I made a couple of mistakes along the way but I think it came out pretty well for a first try at setting stones. I was pretty worried I might crack them in the setting process as I've heard they're softer and prone to cracking. I mistakenly used Sterling silver rather than fine silver for the bezel edging which caused more work in setting the stones. I certainly learnt a lot through trial and error in making the bezels.
AJS Products used: AJS supplied most of my equipment including their Advanced Starter Kit and Soldering Kit. The Foredom Flexshaft was excellent for the sanding and finishing of the piece. I used Tripoli and Rouge for the final polish.