An Electric Year!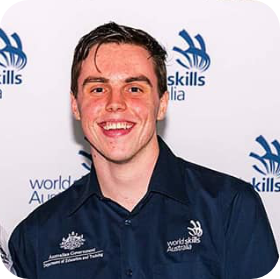 What a year 2019 was for apprentice jeweller Nathan Kettle. Firstly he represented Australia in a WorldSkills event in Russia. Then he wins the Debuting Category in the prestigious 2019 JAA Australasian Jewellery Awards.
Read Nathan's thoughts on his achievements below.


Competing in Russia
Last year I spent most of my time training for the WorldSkills competition in Kazan, Russia. The competition is a showcase of the world's best up and coming tradespeople where competitors from different countries compete against each other in their trade.
Award Winner
I took out 5th place in the Jewellery Category which earned me a medallion of excellence. Coming off of that was the JAA Design Awards where my entry of a multi-functional pendant won the debuting category.
Lessons
The years of training that went into WorldSkills has taught me so much in the trade which I have been able to utilise in my day to day job.

What these two major accomplishments also taught me is that success isn't about luck or having a natural gift, if you have the drive to reach a goal and you see an opportunity, you can achieve whatever you set out to. It has been not only a huge year for me but the years in training leading up to Kazan have also been demanding.
Thank you so much for all the support from the team at AJS over the past year! 2019 was a huge year for me and I certainly couldn't have done it without all the support that was around me.
The Future
Eventually I plan on developing my own business but at the moment I plan on expanding my skills further and hope to give back to what has made me the jeweller I am by helping to judge and train the next WorldSkills competitors. I would also like to eventually pass on my knowledge and experience to other apprentices and people who are driven to be the best they can be in the jewellery trade.
Nathan
---
The following slides show Nathan in Kazan, Russia and his winning piece in the 2019 JAA Australasian Jewellery Awards.
Click here if you would like to send a message to Nathan.