Ray Mende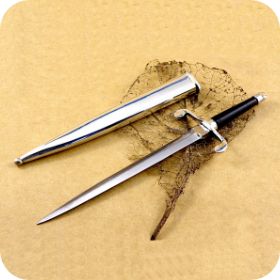 Submission from: Ray Mende
Business: Hobbyist - Ballarat, VIC
Item: Miniature Knife
The miniature knife has an overall length of 111mm the blade is ground from 440C stainless steel. The handle is a piece of ebony and the guard and pommel are manufactured from sterling silver. The sheath is made from sterling silver sheet. Two pieces are cut to shape and then hand formed over a hand made steel mandrel. The two sides are then sanded to meet correctly and soldered together. The top plate with a slot for the blade and the silver ball at the base are soldered in place. I have been making knives for about 20 years as well as the miniatures. I have also been silver smithing and making jewellery for the same amount of time. AJS Products used: Burs, drills, files, silver & polishing products. Countless trips to AJS Melbourne on the train to buy tools and other supplies.