Martin Drozdzowski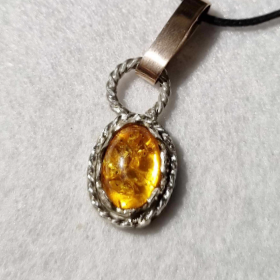 Submission from: Martin Drozdzowski
Category: Student - Melton South, VIC
Item: Electrum Amber Amulet
Reticulated silver electrum amber amulet with rose gold hoop and sterling silver braids.
I have been learning for a few months so the manufacturing process was mostly a learning experience from start to finish and is only my second ever amulet. My first time mixing an alloy, using the mill to manufacture the sheet and wire that I needed.
The amber was a damaged piece that has been in the family for years , it was recut and polished and backed at home.
The texture on the backing is from more experiments. The rose gold is also made at home at around 40% natural gold ( that I prospect myself ) with the rest being a mixture of copper and silver. I am also happy with this amulet because it ended up being my first sale in my new venture.
Durston rolling mill, AJS forming kit, AJS beginner jewellers kit, all entry level things. Bought online or through the melbourne branch. Also the jellybeans helped a lot!