Marina Fox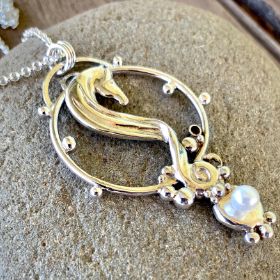 Submission from: Marina Fox
Business: Manufacturing Jeweller - Pennyroyal VIC
Item: Rhythm Horse Bubbles Pendant
This pendant is a variation of my wax sculpted Rhythm Horse Pendant, and set into a new concept design of the bubbles series.
Completely hand fabricated using methods including sand casting the horse using the delft casting system, and wire which was used for the granulation. Made from Sterling Silver and a 8mm freshwater pearl.
AJS Products used:
Delft clay casting kit, swiss spiral sawblades, compressed charcoal solder block, Raytech tumble vibetv-5 tumbler, DT nylon plastic mallet.