21 Years Young
Jim and Sandra Goulton are celebrating 21 years since they took on Maleny Jewellers. In that time they have had many highs and a few lows, three beautiful children, wonderful loyal staff, and this year - a new look!
Jim and Sandra met in Grade 11 when they were 16 and married in 1997. Jim completed his jewellery apprenticeship in Caloundra and Sandra worked at Maleny Drapery. They then bought the business on the 1st of April in 2000 from Barry who was a clock and watchmaker.
The store houses a workshop in which Jim works alongside qualified jeweller Rayin and apprentice jeweller Janis. Maleny Jewellers offers their customers a wide variety of services including all jewellery repairs, remodelling services, CAD designs and of course custom designed pieces.
2020 presented challenges not only with COVID, but the store was also the victim of a smash and grab which left the team devastated.

Only recently, Jim's long-time dream of a store refurbishment was able to be completed. The previous store fitting had been in place for 18 years, but over the last two years Jim had been inspired to create a unique space that better represented the local area and the direction of the business.
He enlisted the talents of many local artists to create a new 'moody' space that has a gallery feel to it. There are lots of different textures, beautiful locally sourced timbers, a large basalt rock feature and so much more.

Take a tour of the shop by playing the video below. (90 sec)
Since the opening of the new look store the feedback has been amazing. People now visit the store to experience the new space and enjoy all its unique features from the ceiling to the floor. The timber workshop benches and office desks were shaped from Queensland Maple that was sourced from the property of the original store owner Barry. There are so many special features and a lot of local history is now a part of the new look shop.
Jim and Sandra aim to continue to celebrate the local area and have just released a collection of jewellery 'Obi Waters' made in store featuring the local Platypus which live in the creek next to the store.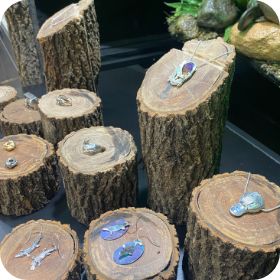 If you are ever visiting the Sunshine Coast, be sure to pop up to the gorgeous hinterland and visit the team at Maleny Jewellers.
---
Connect with Maleny Jewellers at: