From Mad Scientist to Mad about Jewellery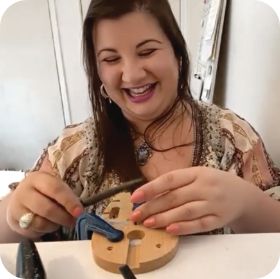 In 2005, Dahna Mak embarked upon studies in biology and graduated from university in 2008 with a Bachelor of Science (Honours in Biochemistry). Dahna worked for 13 years across the human health sector from human cancer biology and therapeutics to veterinary biologics and pharmaceuticals.
Dahna has always had a deep love and understanding for jewellery and has devoted the last 18 years of her life to treasure hunting, analysing jewellery and collecting it. In 2019-2020 she was offered an amazing opportunity to work on weekends in the jewellery retail sector with her favourite personal jeweller Jennifer Edwards.
In 2018, Dahna decided spontaneously that she was going to become a jeweller and enrolled in 3 months of weekend silversmithing classes with Jeanette Dyke at the pristine grounds of Montsalvat in Eltham, Victoria. The days at Jeanette's studio were far too short, so she decided she would set up her own studio at home after her first few classes. With nothing but a list of suppliers and a credit card, she managed to set up a bench at home with most of the items she would need for the next few years. Dahna was instantly hooked and had finally discovered her insatiable appetite for the process of creating and that feeling of overwhelming joy!
When the pandemic struck in early 2020, Dahna managed to sneak in a few more introductory wax carving classes with Jeanette before the first lockdown. Her lab working hours were changed to afternoon shifts which continued well and truly into the dark evenings. As challenging as the year was for her personally and for the world as a whole, this was her silver lining. Dahna finally had the time to solidly focus on making jewellery and developing her wax carving skills in the early morning before heading off to work - and casting drop off and pick up on the way!
Without any further thought and without a definitive plan Dahna quit her day job in November 2020 and started running her jewellery business full time a few days later. Her ultimate goal is to start teaching wax carving in Melbourne, and to continue to garnish her family, friends and wonderful clients with her one of a kind and custom creations.
Dahna has been a magnificent contributor to AJS by sharing her jewellery making expertise in some recent online demonstrations. Viewers will be impressed by Dahna's talent and communication skills – terrific assets to help her in this new and exciting phase in her life.
To learn more about Dahna Mak, please visit her on Instagram @madame.mak_jewellery and madamemakjewellery.com
Click here to view Dahna's online demonstrations.


---