Dan Kennaway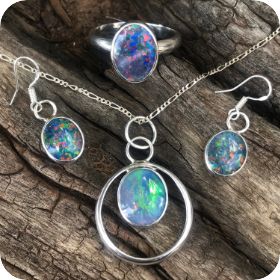 Submission from: Dan Kennaway
Business: Hobbyist - Parlowie, SA.
Item: Quadtriplets
A friend of mine inherited four Coober Pedy Opal triplets from her late Father. They had been kept in a matchbox since the 1970s. I asked for the opportunity to have a look to see what I could do with them not knowing what to expect as all I knew was that she had some cut opals. When I found they were perfectly preserved triplets with a potch backing, I decided to create a complete set of custom jewellery for her to remember her Dad.
AJS Products used: Fine silver bezel wire, Solder Wire: Sterling Silver - Medium and Easy, KD Ring Mandrel, My favourite little file, Dedeco Sil/Carb Mounted Bullet Fine Blue, Dedeco Sil/Carb Mounted Bullet X-Fine Pink, Dedeco Sil/Carb Wheel Knife Fine Blue Dedeco Silicone Carbide Wheel Knife X-Fine Pink, Flock Box - Oval, Black; Town Talk Silver Polishing Cloth