Lessons learned during a pandemic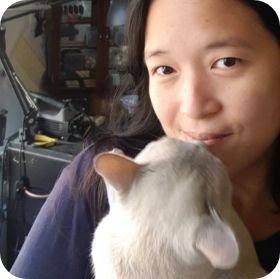 By Aimee Sutanto
As an independent jeweller, I am accustomed to running my business solo. I have learned to keep all aspects of my business within my control to keep them manageable. These aspects include designing, manufacturing at the bench and online marketing. I really enjoy each of them.
At the beginning of the year, even though the excitement of the holiday season sales was over, business was still flowing well. Then the COVID-19 pandemic started to impact in Australia.
Times have been tough, both financially and emotionally. With two lockdowns to battle through, even though I was living and working in the Melbourne CBD within the 5km restriction, being a non-essential worker meant that I had to pack some hand tools and studio plants and head home.
I decided I had to stay productive. I live in a small apartment and bringing a full-sized jewellers bench home was definitely out of the question. I managed to source a table-top mobile bench that allowed me to at least do some basic processes. I had my cordless dremel, my handheld butane torch and an old frying pan. Slowly I managed to set up my work area.
As a creative person, I need to work with my hands to keep busy and I was lucky to have a couple of orders from Canberra that required wax carving. My main body of work is predominantly hand fabricated, but I do enjoy wax carving and my second label 'ANTHAT' allows me to do just that. Fortunately, the people I use to do my casting were still open and within my travel restriction, so I could walk there and drop off my wax and pick up the casting in the next day or two.
Some of my jobs required gems to be set in them, and this is when you realize how important it is to always have extra on hand, especially the ones you use a lot. During my rushed packing, I left a box of my hart burs for gem setting along with some other consumables at the studio. I was very fortunate that AJS was still taking orders and I was able to pick them up on the same day. Steve Tsigeridis was always helpful with my requests regardless of how small my order was.
A constant companion for me throughout the isolation this year has been Leela, my very precious Burmese cat. She is great company and is generally very well behaved, except for when she nibbles my plants! There is no doubt that pets are good for the soul!

The pandemic has given me lots of time to think and reflect on what is important to me and there is no doubt that family is top of the list. Closely followed by my friends and my customers who I love producing work for. Of course Leela is in the mix also!
If I was to learn one thing from this pandemic, it is that it is essential to be versatile, adaptable and to improvise.
---