From Journo to Jeweller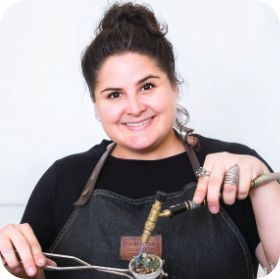 From Journo to Jeweller
In 2008 Kimberley Mather was based in London working as a photojournalist and living a nomadic lifestyle.
She loved it but felt there was something 'missing' so when she received a call from a friend in Brisbane offering her a full time PR job, she jumped at the chance to return home and put down some roots again.
It was whilst she was working on a particularly stressful project that she decided to explore metalsmithing, enrolling in a 6-week 'Introduction to Jewellery Making' workshop.
Her enduring love affair with metal and gemstones was born.
Fast forward to 2015, and Kimberley was made redundant, so she decided to move home to the Sunshine Coast.
With very few work prospects available, Kimberley started making hand-crafted jewellery in her garage to sell at the Original Eumundi Markets.
It was after a particularly exhausting 40-degree market day that Kimberley decided that it was time to set up her own jewellery studio and school.
She approached the Arts team at Sunshine Coast Council, who suggested a space at the Old Ambulance Station in Nambour and Jewellery Collective was born!
Kimberley said, "When I first dreamed up Jewellery Collective, my goal was to have my very own studio and gallery space but it then evolved into a school, as I was getting so many requests for private workshops."
"My goal is to demystify the art of jewellery making, to open it up to a wider audience rather than it just be the exclusive domain of jewellers," Kimberley said of the workshops that started in March 2017.
"We live in such a fast-paced world and I am finding that people are really wanting to get back to basics and learn tangible skills so they can craft things of beauty with their own two hands," Kimberley said.
Jewellery Collective has evolved over the past 3 years, and has gone from teaching mostly beginners to now focusing on wedding ring workshops, as well as intermediate and skill-based workshops taught by visiting teachers.
"I am so grateful that I found my calling and have had the opportunity to make my dreams a reality, from making and selling jewellery at the markets, to launching my own jewellery school." Kimberley said.
To learn more about Jewellery Collective visit www.jewellerycollective.com.au