Lyn Ludwick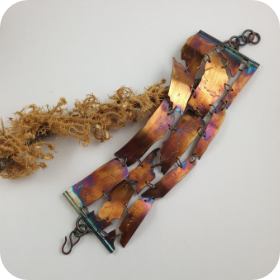 Submission from: Lyn Ludwick
Business: madebylyn (Hobbyist) - Rystone. NSW.
Item: Bark Bracelet
This bracelet is from a small series of jewellery that I made as part of my healing process from the Christmas fires. The bracelet is made of 15 interlocking links of patinaed sterling silver. It represents the way the burned bark broke up into jigsaw like pieces as the tree growth continued. The links were drawn, cut and then joined with jump rings, curved to suit the wrist and the ends were strengthened with sterling silver. The catch added was a hook and jump rings. The whole bracelet was patinaed with Liver of Sulphur with the various parts of the metal at different temperatures to achieve the various colours.

AJS Products used: Saw & Saw Blades, Pliers, Mallet, Liver of Sulphur, Drill Bits.