Home

/

Murua Universal Electro-Finishing System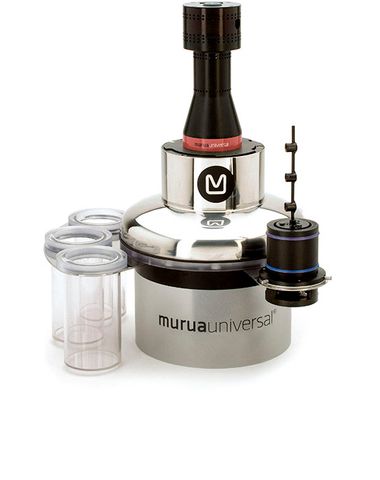 Murua Universal Electro-Finishing System

The Murua Universal Electro-Finishing System provides an easier, quicker and more effective finishing option for jewellery pieces all in a very compact unit.

The process incorporates fine grinding and polishing. Inside the finisher, prepared workpieces are immersed in a special solution (one for gold, another one for silver/brass; available separately) that coats the metal surfaces. The finisher, based on mechanical-galvanic principles, uses mechanical agitation to bombard the pieces with tiny particles of special plastic media.

As these particles collide with the workpiece, the particles temporarily disturb the coating, allowing the charged bath to cause electrolytic depletion, polishing the metal surface-even the finest details of the design-in a fraction of a second before the coating is restored.

The innovative Universal machine is designed to handle gold, silver and brass workpieces and produces higher-quality results much faster and more easily than traditional mass-finishing or tumbling methods.

Simply load jewellery pieces onto the accessory hooks on the parts holder (fixturing unit) that fits into the power head; choose the holder and hooks (all available separately) that best accommodate the size and shape of the pieces you want to finish and the rest is completed automatically.

Gemstones (at least 7 on the Mohs hardness scale) and non-metal components need not be removed; they are left untouched and unchanged by this gentle process.

Protects the geometry of your workpiece-traditional mass-finishing methods generally don' t polish at an even rate, resulting in rounded edges and muted detail. This revolutionary system polishes at an even rate, protecting all aspects of your design.

Easily recover up to 95% of the precious metal that is removed in this process. There are no abrasives mixed with the metal-simply scrape the dry cathode and send scrap to the refinery for metal recovery. No more trying to sweep up and collect dust filings-it' s all collected in the machine.

Suitable for pieces as small as earrings or gemstone settings to larger items like bangles and a variety of metals that are used in jewellery manufacture.

Murua Universal has been designed for jewellers with the most advanced finishing technology to reduce final processing time considerably!

Model: Universal

Machine dimensions: 305 (ø) x 560 mm

Machine weight: 12 Kg (without liquid)

Voltage: 12 V 12.5 A (transformer)

The price listed is a starting point, depending on which model and what consumables you require - please contact your local branch to discuss.